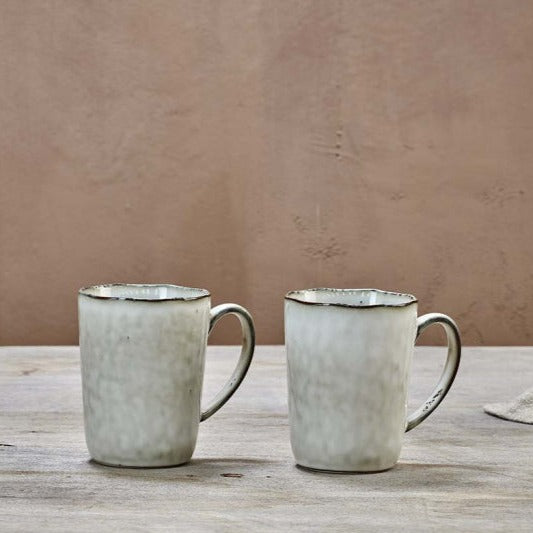 Amina Mug - Cream
This beautiful mug has a gorgeous tactile finish that makes it a complete pleasure to use! The reactive glaze creates a completely unique look on each mug - we love these! 

Dishwasher safe. Microwave proof.
11cm x 8.5cm x 8.5cm
A few words from Nkuku:
"These collections are created by talented artisans in China. The country has a rich heritage of arts and crafts, but sadly it is now more renowned for mass production and many of its traditional skills have been forgotten or overlooked. We work together with our suppliers to protect these skills. 
 Our primary focus is transparency, we see our suppliers more as partners and encourage open dialogue and communication. We make regular visits and employ agents who also visit our suppliers often, to assist with production queries and offer support and advice. 
We adhere to the standard globally recognised 10 Principles Of Fair Trade, but have our own procedures for the management of our supply base. A key principle for us is working with suppliers who are at the start of their fair trade process. Providing that there is the desire to start on an ethical journey, we will invest in the supplier to help them achieve this. As a result we will have suppliers who are at varying stages of their own accreditation. Trading fairly provides these artisans with an opportunity to build a future. It helps businesses develop and creates sustainable employment"